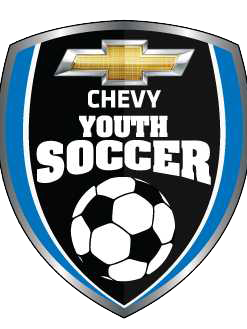 STEVE RAYMAN CHEVROLET HOPES TO HELP MCCLESKEY-EAST COBB FAMILY YMCA SCORE BIG.
Steve Rayman Chevrolet teams up with McCleskey-East Cobb Family YMCA to help raise thousands of dollars for youth soccer program. 
Smyrna,Sep. 12,2011 - In the spirit of teamwork taught by youth sports, Steve Rayman Chevrolet is teaming up with McCleskey-East Cobb Family YMCA to provide their players and coaches with soccer kits filled with equipment bags, soccer balls, sport cones, scrimmage vests and t-shirts, a sponsorship check and an opportunity to help them raise funds.
McCleskey-East Cobb Family YMCA will have the opportunity to raise as much as $10,000 through a fundraising opportunity where one lucky recipient will win his or her choice of a 2011 Chevrolet Equinox or Cruze. Another lucky winner will receive a Home Entertainment Package.
Steve Rayman Chevrolet and other Atlanta-area Chevrolet dealerships are donating these prizes to participating leagues in the area. One-hundred percent of the proceeds collected from the fundraiser go directly to the leagues. The funds may be used in any way the league chooses.
A one-time sponsorship check will be presented by Steve Rayman Chevrolet to McCleskey-East Cobb Family YMCA. The league also will have an opportunity to raise additional funds for their use as part of a Chevy Youth Soccer Fundraiser. Sponsored leagues across the country will each receive 2,000 fundraiser entry tickets to distribute for a suggested donation, and the league will keep 100% of the proceeds raised. At the end of the fundraiser, there will be four winners of a Chevy Equinox or Chevy Cruze vehicle of choice (up to $24,995 in value), and in each participating market there will be a secondary prize of a home entertainment center valued at $1,000.
Some leagues plan to grant scholarships to families who cannot afford to enroll their children in the league, while others will use the funds to improve fields and equipment.
"We are proud to be able to help the kids in our community by donating equipment and giving them the opportunity to raise much-needed funds for their league. We are excited to be part of the effort this year, and anticipate a fun-filled season with McCleskey-East Cobb Family YMCA" said Tim Barnett, General Manager for Steve Rayman Chevrolet. 
ABOUT STEVE RAYMAN CHEVROLET
Steve Rayman has been the name you trust in the Southeast Auto Market for over 25 years! Our award winning sales, service and parts departments set us apart from the competition. We also have a strong presence online so that you can have all of your transportation questions answered from the comfort of your own home. A full-time internet sales staff is available six days a week to assist you while looking for a vehicle online. Steve Rayman has instilled in all of the staff members the importance of customer service. Our courteous staff welcomes you to our family whenever you are ready to purchase or service your vehicle. This is why we are here to stay and continue to serve the Atlanta metropolitan area.
ABOUT CHEVROLET
Founded in Detroit in 1911, Chevrolet celebrates its centennial as a global automotive brand with annual sales of about 4.25 million vehicles in more than 130 countries. Chevrolet provides consumers with fuel-efficient, safe and reliable vehicles that deliver high quality, expressive design, spirited performance and value. The Chevrolet portfolio includes iconic performance cars such as Corvette and Camaro; dependable, long-lasting pickups and SUVs such as Silverado and Suburban; and award-winning passenger cars and crossovers such as Spark, Cruze, Malibu, Equinox and Traverse. Chevrolet also offers "gas-friendly to gas-free" solutions including Cruze Eco and Volt. Cruze Eco offers 42 mpg highway while Volt offers 35 miles of electric, gasoline-free driving and an additional 344 miles of extended range. Most new Chevrolet models offer OnStar safety, security and convenience technologies including OnStar Hands-Free Calling, Automatic Crash Response and Stolen Vehicle Slowdown. More information regarding Chevrolet models can be found at www.chevrolet.com.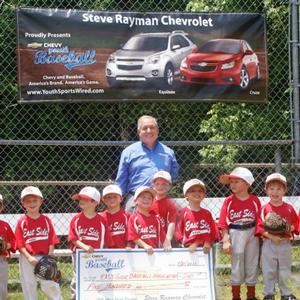 STEVE RAYMAN STEPS UP TO BAT THROUGH YOUTH BASEBALL PROGRAM.
Chevy youth Baseball is a grassroots initiative that establishes a positive relationship between local dealers and the communities they serve.  Steve Rayman Chevrolet knows the importance of the youth activities and hopes that the efforts with youth baseball go a long way in the future of our community!In the spirit of community collaboration and teamwork taught through youth sports, Steve Rayman Chevrolet is supporting youth Baseball through the Chevy Youth Baseball program.  This sponsorship includes donations during the youth baseball season.
Chevy youth Baseball is a grassroots initiative that establishes a positive relationship between local dealers and the communities they serve. Steve Rayman Chevrolet knows the importance of the youth activities and hopes that the efforts with youth baseball go a long way in the future of our community! 
LET'S GO FISHIN' WITH MR. RAYMAN
Steve Rayman Chevrolet and Mr. Rayman are a proud sponsor of a local fishing team here in Atlanta,GA.   Matt Driver is a member of this local fishing team.   Matt Driver is a Firefighter/EMT for the City of Atlanta Fire Dept. A tournament bass fisherman, as well as a Prostaffer for companies in the fishing industry.
 Matt is a board member on an outreach branch of Social & Economic Development called Urban City Anglers (UCA).  The core concept of UCA is to show our children another aspect of the Wide World of sports.  There are more sports than just basketball, football, soccer, etc...Angling has been around for many, many years and the way people fish is always changing.  UCA exposes the inner city youth to wide variety of techniques, fish types and places to fish.  They run 20-25 trips a year which are fully staffed and organized by dedicated volunters, including volunteer "certified leaders" who are certified in basic First Aid and CPR.  Learn more about UCA at
wwww.urbancityanglers.com
.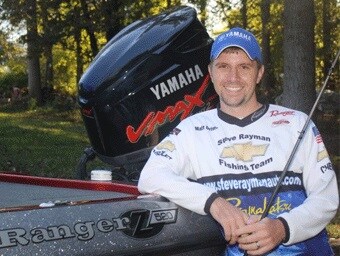 URBAN CITY ANGLERS MAY 2010 EVENT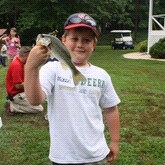 WE STARTED THE DAY WITH A PRAY
Thanks to all who participated Saturday and a BIG thanks to those who donated items so the kids could have a blast and the best thing about it was that it didn't cost them a dime!  In total we had around 80 kids (not including parents) they caught a total of 415 fish!! It was fun filled day to say the least. We started the day with a prayer and introduction from the President of Urban City Anglers, then recapped the rules of the tournament/competition.  We allowed each child to bring on the biggest fish to the scale and have it weight for the chance at prizes.  The age groups for the tournament 5-8 boys/girls 9-12 boys/girls and 13-18 boys/girls.  The top 3 boys and the top 3 girls were awarded prizes in each age group. 
FOR MORE PICTURES OF THE EVENT
We also did crafts, materials were donated by Home Depot and thanks to Steve Rayman Chevrolet, Georgia Heritage Bank, GEMC Federal Credit Union all of the kids and families were fed and had plenty of drinks! We will be having several more events this year so if you would like to help out, attend or donate to Urban City Anglers please contact us at
www.urbancityanglers.com
. For more pictures of the event
click here
!